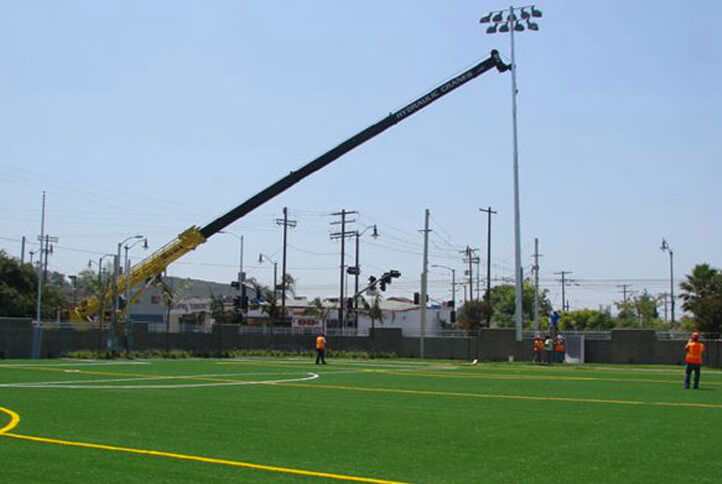 Mobile Crane Rentals for Electrical Projects in LA & OC
✔ Over 50 Years of Experience Working on a Wide Variety of Electrical Projects
✔ Thousands of Satisfied Clients
✔ Union Trained and Certified Operators, Riggers & Signal Persons
✔ Large Fleet of Mid-Size Hydraulic Cranes, Ideal for Lifting Street Lights, Solar Panels,Cell Towers, Electrical Vaults & More
✔ Rigging, Man Baskets, Pallet Bars & Other Crane Accessories Provided at No Cost*
✔ 4 Hr. Min. Short-Term & Long-Term Contracts
✔ One-Day Turnaround on Additional Insured
Hydraulic Cranes LLC is a union certified crane company that specializes in providing mid-size hydraulic crane rentals with operators for electrical projects in Los Angeles and Orange County. In business since 1960, we have performed hundreds of thousands of lifts and maintained an impressive safety record with a current EMR of 0.80. We believe that we have been able to achieve this excellent rating because our crane operators, riggers, and signalers are all carefully screened, thoroughly trained, and highly experienced; our fleet of mobile cranes is well maintained by our in-house, full-time mechanics; and we closely follow the industry's best practices and safety protocols.
We offer our professional hoisting and rigging services for a wide range of electrical lifts, including but not limited to 80- to 100-foot light poles, cell towers, solar (roofing) panels and framework, and underground utility vaults. Lifts like these require a seasoned crane company because most electrical items are delicate and must be handled with special care and attention. With solar panels, for example, we must use a nylon rig with softeners to reduce jarring and prevent breakage. We also take the time to design critical lift plans which ensure that we are aware of the terrain, all obstacles, and possible safety concerns prior to arriving with your crane rental. As a result, our clients always get the right crane for the job and can trust that their lift will be performed safely and efficiently. We also rent crane accessories, such as man baskets and trash baskets, at no additional charge, as long as the client is able to pick up and return the item. (An additional charge only applies when we need to send out an extra truck.)
Call Hydraulic Cranes LLC today to schedule a free on-site estimate for your next electrical project. We have OSHA certified and DOT approved cranes that range in capacity from 5 tons to 300 tons. Our rentals are available for short- and long-term projects and always come with a union trained and certified operator as well as all the rigging equipment you'll need to complete the lift. We're also able to secure all the necessary travel, parking, and lane/street closure permits. Our company is licensed, bonded, and insured, and we hold memberships with the Mobile Crane Operators Group (MOB), Southern California Contractors Association (SCCA), California Trucking Association, and Teamster's Local 12.