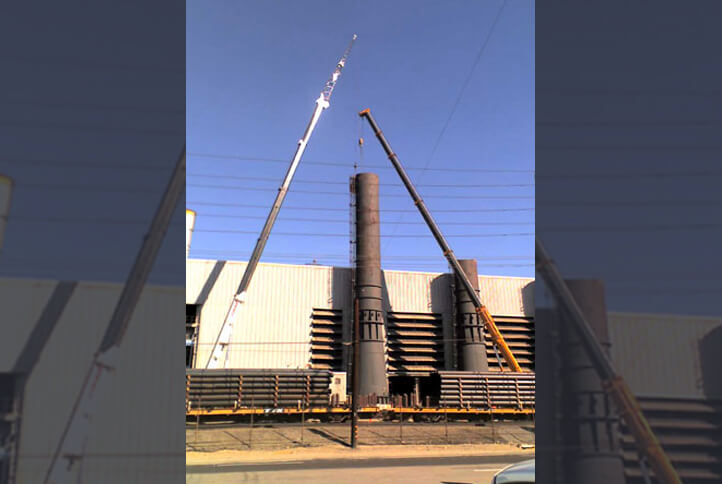 Crane Rental and Operator Service for Plant Shutdown, Maintenance, and Repairs

Valve Replacement – EVAC System Removal – Large Machinery Lifting
✔ Serving LA & OC for Over 50 Years
✔ Proven Track Record for Safe Lifts
✔ Thousands of Satisfied Clients
✔ 5-Ton to 300- Ton Capacity Cranes: All Remote Operated, OSHA Certified, DOT Approved & Well Maintained
✔ Union Trained and Certified Operators
✔ Certified Payroll Filing Available
✔ Quick Turnaround on Addl. Insured
✔ Free Lift Planning & Permitting
Hydraulic Cranes LLC provides expert hoisting and rigging services for manufacturing and industrial plants, factories, and facilities throughout Southern California. Over the last 50 years, we've rented mid-size hydraulic cranes with union trained and certified operators to help with shutdowns, maintenance, and repairs. Such work has involved everything from replacing valves, motors, blowers, fans, and more on EVAC systems (also known as baghouses) to helping remove and replace motors, chains, and other heavy duty parts on large machinery and industrial equipment.
At our Santa Fe Springs location, we keep a large fleet of well-maintained mobile cranes, which range in capacity from 5 tons to 300 tons. Two full-time mechanics work to keep all of our cranes up-to-date and ready for service. Every crane we rent is driven and operated by a highly qualified crane operator who may have between 10 and 26 years of on-the-job experience. We can also supply qualified riggers and signalers as well as additional crane lifting equipment upon request. All our cranes are OSHA certified and DOT approved and our rigging equipment is frequently inspected. Additionally, everyone on our staff completes OSHA's Safety Training course.
Hydraulic Cranes LLC is a member of Teamster's Local 12, Southern California Contractors Association (SCCA), California Trucking Association, and Mobile Crane Operators Group (MOB). We service most of the Southern California area, including Los Angeles County and Orange County. Our business is licensed, bonded, and insured. Call us today to schedule a free on-site job estimate. An expert will come out to your location and work with you to determine the appropriate size crane for your job and help you develop a critical lift plan to ensure a safe and success lift. Once you've confirmed your mobile crane rental, we can typically obtain Additional Insured coverage for your business within a day and help you secure all required permits (e.g., parking permits, travel permits, and street and lane closure permits).