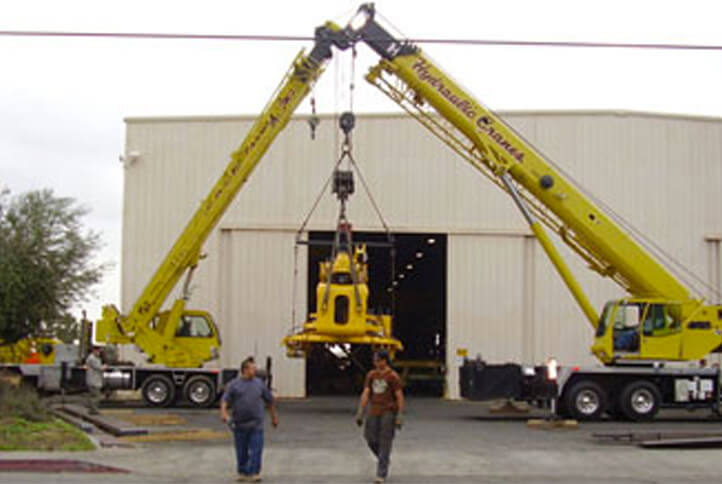 Rigging Services in
Los Angeles & Orange County
✔ Mobile Crane Experts with Over 50+ Years of Experience
✔ Certified & Qualified Operators, Riggers & Signalers
✔ Specializing in Hydraulic Cranes
✔ All Cranes Arrive Fully Rigged: Single, 2, 3, or 4 Leg Straps/Slings
✔ Exceptional Safety Record (Low EMR)
✔ Licensed, Bonded & Insured
✔ Free On-Site Lift Planning Services
For over 50 years, Hydraulic Cranes LLC has provided commercial and municipal clients throughout Southern California with expert hydraulic crane rigging services. We are union trained and specialize in mid-sized mobile cranes, ranging from 5 tons to 300 tons. Depending upon your needs, we can supply either a qualified or certified rigger with any crane rental with operator service. Because of the size of our fleet and staff, we can usually accommodate requests on short notice–sometimes, on the same day. We typically send out 10-15 cranes per day and can easily perform hundreds of lifts per day.
• Construction lifts (steel construction and erection, rebar work, cement panels)
• Plant shutdown lifts (replacing industrial valves, evac systems)
• Electrical lifts (light poles, stadium lights, cell towers, solar panels)
• Caltrans/municipal lifts (bridge and highway work, k-rails, barricades)
• HVAC&R lifts (commercial rooftop air conditioners)
• Landscaping lifts (palm trees, boulders, rocks)
• Shipping container and vessel lifts
• Vault and underground tank lifts
At Hydraulic Cranes LLC, we know that safety is a top priority for most of our clients. While we work quickly, we never take shortcuts, take risks, or perform a lift without a comprehensive lift plan. That's why we require that every job have a designated, qualified rigger to work with our crane operator. By following a very strict safety protocol, we've been able to hold a high safety record over the years and currently have a MOD rate of 0.80. Our crane operators, riggers, and signalers are all thoroughly trained by our union and OSHA and average 10 to 26 years of on-the-job experience. Our hydraulic cranes are maintained by two full-time mechanics, who ensure each crane is properly maintained and available to immediately send out for the next lifting project. We also keep our rigging equipment in kept up to date with all safety requirements.
Hydraulic Cranes LLC provides free on-site estimates for our Southern California clients. We'll come out to your site, determine what size equipment you need, and put together a lift plan. We also assist our clients in acquiring all necessary permits and provide accessories (e.g., man baskets, trash bins, cement buckets, etc.) free of charge so long as the customer picks up and returns the item. Crane charges vary based by location, but are always competitive for the quality of our services. Our business is located in Santa Fe Springs, California, but we serve customers throughout the Orange County and Los Angeles areas. Hydraulic Cranes LLC is licensed, bonded, and insured. We hold memberships with the Southern California Contractors Association (SCCA), Mobile Crane Operators Group (MOB), California Trucking Association, and Teamster's Local 12.