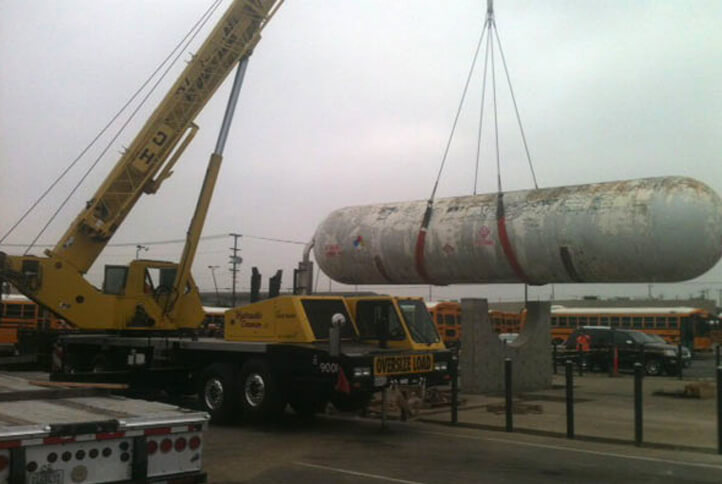 Southern California's Leader in Hoisting and Rigging Since 1960
Underground Tanks – Above Ground Tanks – Electrical Vaults
Grease Traps – Vaults – Concrete Bunkers
✔ Family-Owned and -Operated Since 1960
✔ Hundreds of Thousands of Successful Lifts
✔ Excellent Safety Record (MOD .80)
✔ Union Certified Operators with 10-26 Years of Experience
✔ Large Inventory of Mid-Size Hydraulic Cranes
✔ Always Get the Right Crane for Every Job
✔ Licensed, Bonded & Insured
At Hydraulic Cranes LLC, we've used our mobile cranes to work on vault and underground tank projects throughout Southern California. Our union trained and certified crane operators and riggers are called in once the vault or tank is delivered to the job site so that they can lift it from the truck and set it in its designated underground location. We've lifted and set electrical vaults, grease traps, concrete bunkers, aboveground tanks, and underground tanks. Since California now requires property owners to trap rainwater on their property, we've been called in to assist in the installation of runoff drain systems on numerous construction projects.
Hydraulic Cranes LLC was established in 1960. Since then, we've completed hundreds of thousands of lifts throughout Southern California, and gained a reputation for having an exceptional safety record; experienced crane operators, riggers, and signalers; and a wide variety of hydraulic cranes. We own cranes ranging in capacity from 5 tons to 300 tons. Our employees average 10 to 26 years of hands-on experience and are required to complete OSHA Safety Training classes, as well as random drug and alcohol screenings.
Call us today to learn about our crane rental services for lifting vaults and underground tanks in the Los Angeles and Orange County area. We provide free on-site job estimates. Our company is licensed, bonded, and insured, and will always provide the right-size mobile crane for the job. In addition, we can provide permitting assistance and additional insured certificates.